The Philippines. First time I've travelled here. And I'm surprised, delighted and intrigued.
My only knowledge of the Philippines was academic – history of Rizal, the Spanish, the conversions, the US control, Japanese occupation. These people have been through so much.
Modern day, every-day Philippines was an unknown to me. Most Aussies I spoke to have never been to the Philippines, and most would think of it as a sex-trade haven, with links to animal cruelty, dodgy business deals and the tragedy of typhoon Haiyan offering images of ruin, devastation and horribly inefficient infrastructure.
So now that I'm in Manila, seeing just a small part of it for myself, I can see (from albeit this small part) that Manila is unexpectedly modern, with great food, awesome shopping, a warm friendly culture and a passionate religion and cultural resilience.
Our first day was spent wandering around Makati, where we are staying and then going to the Greenbelt shopping centre – the home of Gucci & Dior. It is a huge mall, but apparently not the biggest. The largest one is "Mall of Asia"…but I'm not really a fan of malls. I bring it up to show how much it compares to Singapore or Hong Kong or Kuala Lumpur in terms of "shopping tourism".
Well, the highlight of Greenbelt was the Ayala Museum. Yes. A museum in a shopping mall. And a good one, at that! Pic below shows the front of the museum. It's a cross between an art museum, a history museum, cultural museum. It was extremely professional, well-designed and the exhibits were fascinating.
I didn't take pics in the museum, as I was just taking it all in after flying 24 hours with a transfer in Kuala Lumpur from Sydney to get here. The museum is cold, but it's a beautiful modern design, and the highlights were the great diorama exhibit of Philippines' history. Yes. Dioramas. About 40 of them, but geez they worked well. The models were full of emotion, fluid movement, and it was a lively snapshot of all the key moments in the history of this country, giving us a great introduction to the resilience of the people. Hard to explain as I don't have pics…but seriously, it was a great way to evoke emotion from a few lines of accompanied text instead of large swathes of information.
Highly recommend the permanent gold exhibit at the Ayala: "Gold of Ancestors" – housing over 1000 different pieces of gold which were found at burial sites throughout the Philippines. The skill of the workmanship that went into making these incredible artifacts was amazing, and all original pieces are displayed beautifully.
We then wandered to the Chinatown (Binondo) area, and wandered through the local shopping centres here. Cramped into massive areas are tiny stall-like shops – similar to the hives you find in Hong Kong. It is much much larger than Sungai Wang Plaza in Kuala Lumpur. Lots of cheap shopping, with many well-marked prices although you can bargain if you buy a few items. Below is a pic of the Lucky 999 Shopping Mall from the walkway between sections….which bleeds into 168 Shopping Mall, and I'm sure many other areas…Yup, we got lost a few times.

Here's an example of the variety of stuff you can find here. Electronics, tech stuff and down the aisle, you have some bridal dresses. AMAZING bridal dresses if you're that girl who loves frou-frou stuff. I'm not, but the material and detail on beading was incredible. I wasn't allowed to take pics, but you get the idea. If you want something in this 6 storey mall (I'll admit, not sure if its 999 or 168) you will find it!
We ate at the food court in 168 Shopping Mall and we were NOT disappointed. Despite being a floundering tourist, with no concept of the what to pay, all the prices were marked, and the shop owners switched to English once they realised I was not a local. 🙂 And they even filled me in on the deets, like "hey the vegetables are free, you want some?", when they could have easily just palmed me off and not bothered.
The foodcourt and toilets were clean, MUCH cleaner than some places in China and Malaysia & Singapore, which was so surprising to me.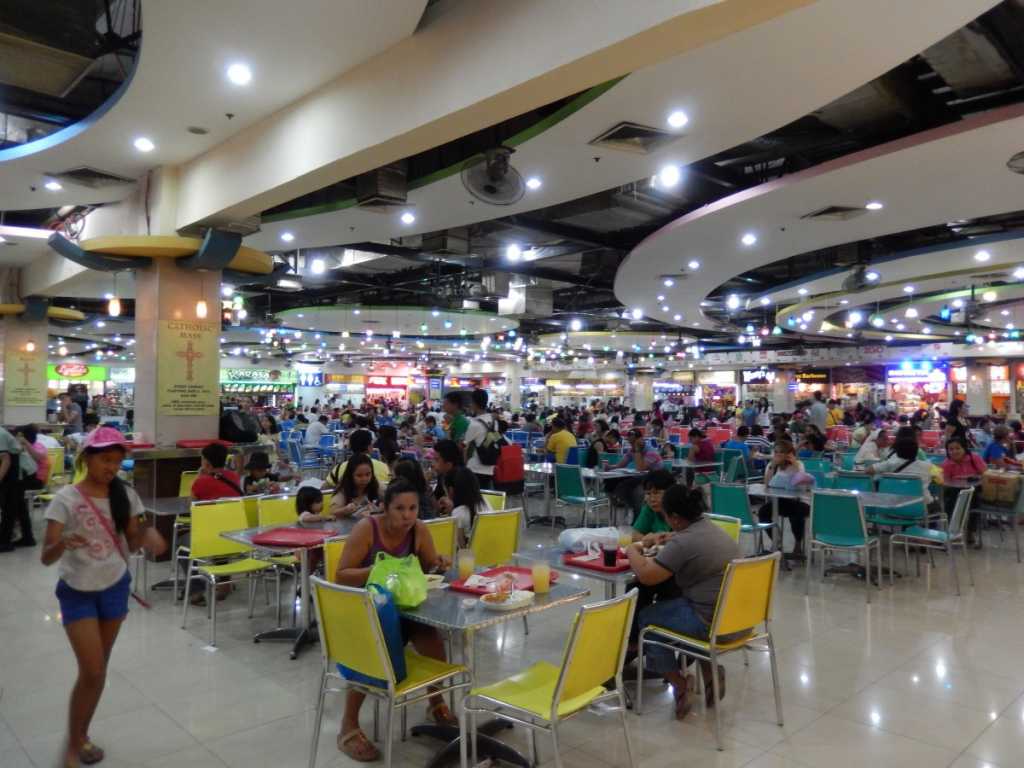 Here's one thing I think EVERY food court should have. No plastic cutlery, no extra rubbish, but REAL cutlery, and placed in hygenic boiling water containers that are kept on the boil as they are powered. Freaking awesome idea! AND they had filtered water stations where you can use plastic (reusable) cups to drink free water. You just leave the cup back at the station and they clean it and put it back near the filtered water.

These pics below are at the front of Binondo Church, which is in Chinatown. As tourists, we weren't allowed inside while the mass was on, so we took pics of the outside, but the link will show you the gorgeous interior.
I really wanted to pet the horsey outside the church, but it started raining and my fellow travellers were hungry so I had to go. I am a merciful god.
Below is the plaza in front of the Binondo Church.
I have to keep reminding myself that I am in a South East Asian country, and not in some Spanish town. Religion is everywhere. Catholic idols of Jesus on the cross, the Virgin Mary and rosaries are everywhere. The street names and the over 400 year old architecture is Spanish.
One of our taxi drivers had a little black Nazareen on his dashboard. YES, people. Black Jesus.
And throughout all this food-hunting, people watching and religious introspection, there is the Filipino sense of national independence.
And it's displayed in a place called Rizal Park. It's a HUGE HUGE park, with lots of areas for picnics, with a message of rememberance for a great leader and martyr.

There's a sense of pride, of solemn introspection, yet it is incredibly people-friendly. Open spaces, airy areas, broad, meandering walkways, and statues which are powerful yet non-violent.
Rizal Park is a pretty sacred place to locals. It's considered hallowed ground as their national hero, Jose Rizal was executed there.
Yet, there's a warmth, an ease or flow to the park which doesn't force you to walk up pathways from one monument to the other – it's large enough for you to keep your distance and not even notice some of the statues or plaques.
They've manged to get the balance between a memorial and a community space just right. As we were there on a Sunday, perhaps it was the relaxed atmosphere, but piped music through large speakers next to the pool was up beat indie folk or pop music…it wasn't deep, sentimental or moody.

We were there on a Sunday, and we saw locals walk around eating and drinking, having picnics, playing with their kids. Couples walking hand-in-hand, groups of teens just being teens, and older couples having picnics. Fruit sellers and snack-stalls were all around and rubbish bins were located everywhere, encouraging relaxed eating and the place was really clean.
We bought fresh-cut mangoes from fruit sellers, coconut drinks from the snack stalls and meandered for hours, just watching and taking in the atmosphere.
Tourist police were visible to help out with any questions, and it seemed that the park was more like a public service rather than a pilgrimage location. No "you must bow your head and remember the dead and have nationalistic pride & wave flags" type of a place. I really liked that balance, whilst still respecting the history of the place.
There's something very special about the Philippines, as with any country. There's an incredibly strong sense of indentity, yet there's an approachable warmth that transcends their past oppression. This country has battled numerous colonial powers over a period of 500 years, from Spanish to Japanese to US. Yet, most everyone speaks English while Tagalog is still the primary language.
So Thank You/ Salamat Po, to the Philippines and Manila locals, for making us feel welcomed.
Modern, cultured and contemporary, with a rich history, my last 3 days in Manila has been totally surprising, delightful and I'm eager to find out more about this country. This won't be my last visit to the Philippines. 🙂
969 total views, 1 views today